Your cart is currently empty.
What our clients have to say about our scents
"I can honestly say that after a full season of using RAW, these are the best deer scents I have ever used!"

Adam Hays III Team200
"This guy came straight to my set. This stuff is amazing. Thanks, RAW Frozen Scents."

Shane West
"Both bucks came in aggressive looking for a hot doe or a fight for one!"

Greg Goodman
"I have never used scent more fresh, or more effective than your scent."

Logan Stoltzfus
"I put the estrus out today and shot this buck 15 minutes later. Your product works really well."

George Russell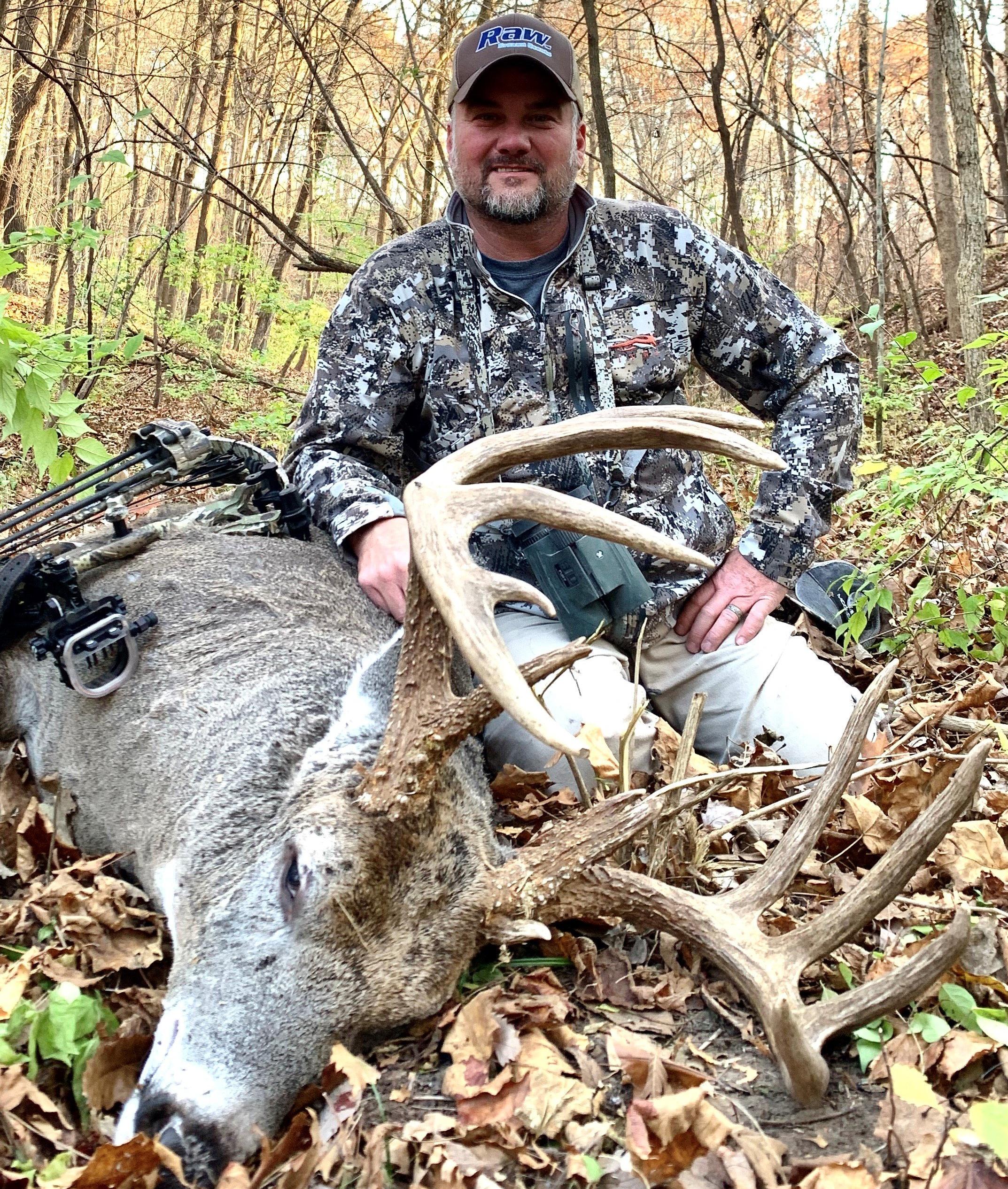 After 40 years of chasing whitetails with a bow, I've tried every deer lure under the sun. I can honestly say that after a full season of using RAW, these are the best deer scents I have ever used! Fooling one mature deer a year, like my Ohio buck, made for a successful season - but also harvesting my biggest Illinois buck to date after 15 years of hunting there made for one of my best falls ever!
Adam Hays III
Team200
I cannot say enough good things about Raw Frozen Scents. I had more activity running cameras over mock scrapes and licking branches than I ever before! I've never seen a scent that almost turns and strikes a deer's mood quite like the Raw did. On the morning of October 31st, I ended up harvesting not the highest scoring deer on my farm, but the oldest, which is even more impressive to me. When I was walking in that morning, all I did was spray the bottom of my boots about 100 yards from my stand. Then while walking by the scrape, I freshened it up as well. An hour after sunrise this buck comes walking up the bluff below me to check this scrape out. Giving me an 18-yard shot at the scrape! RAW FROZEN SCENTS is something that you might want to add to your arsenal this season!
Michael Dempsey
Team200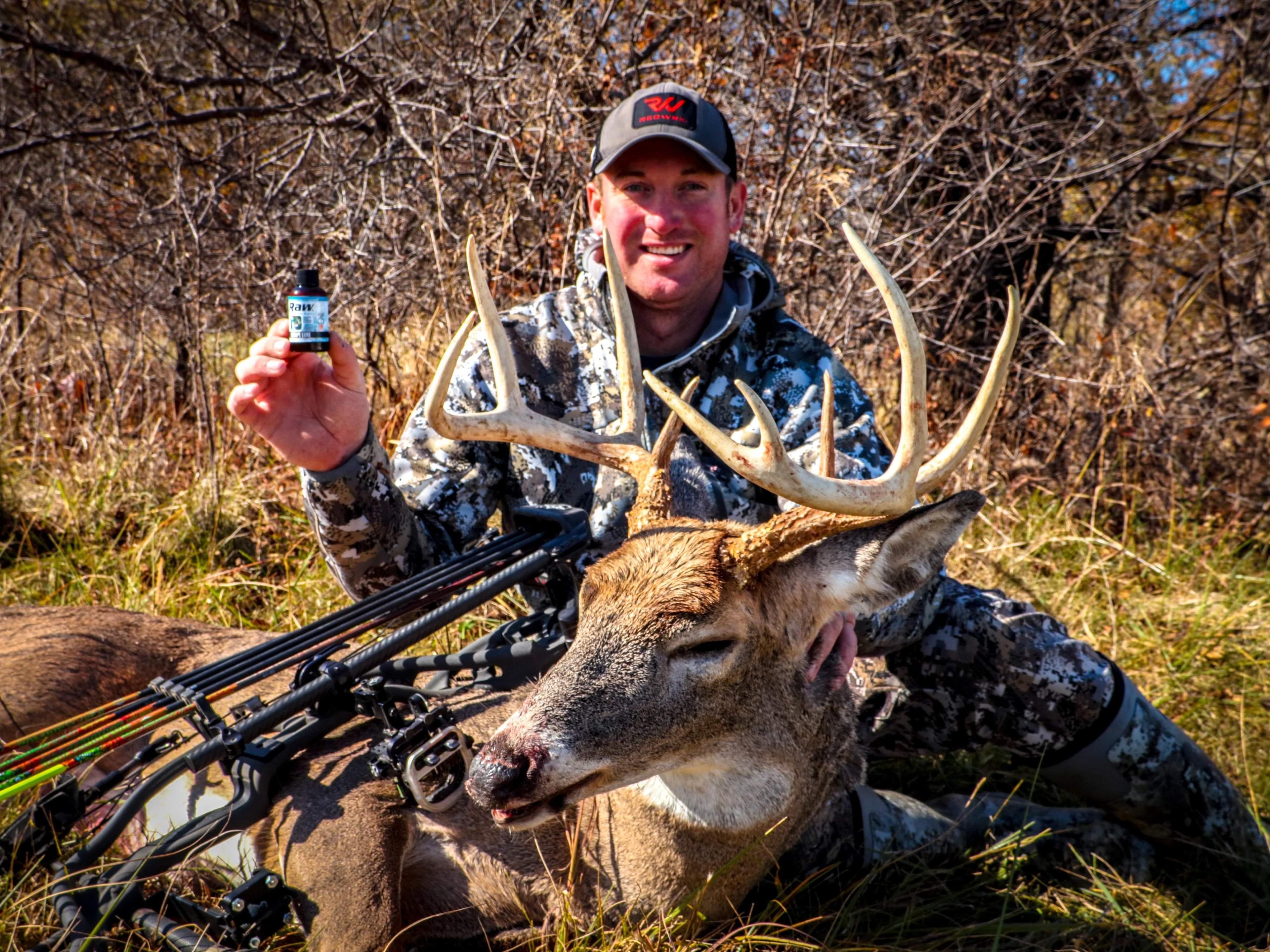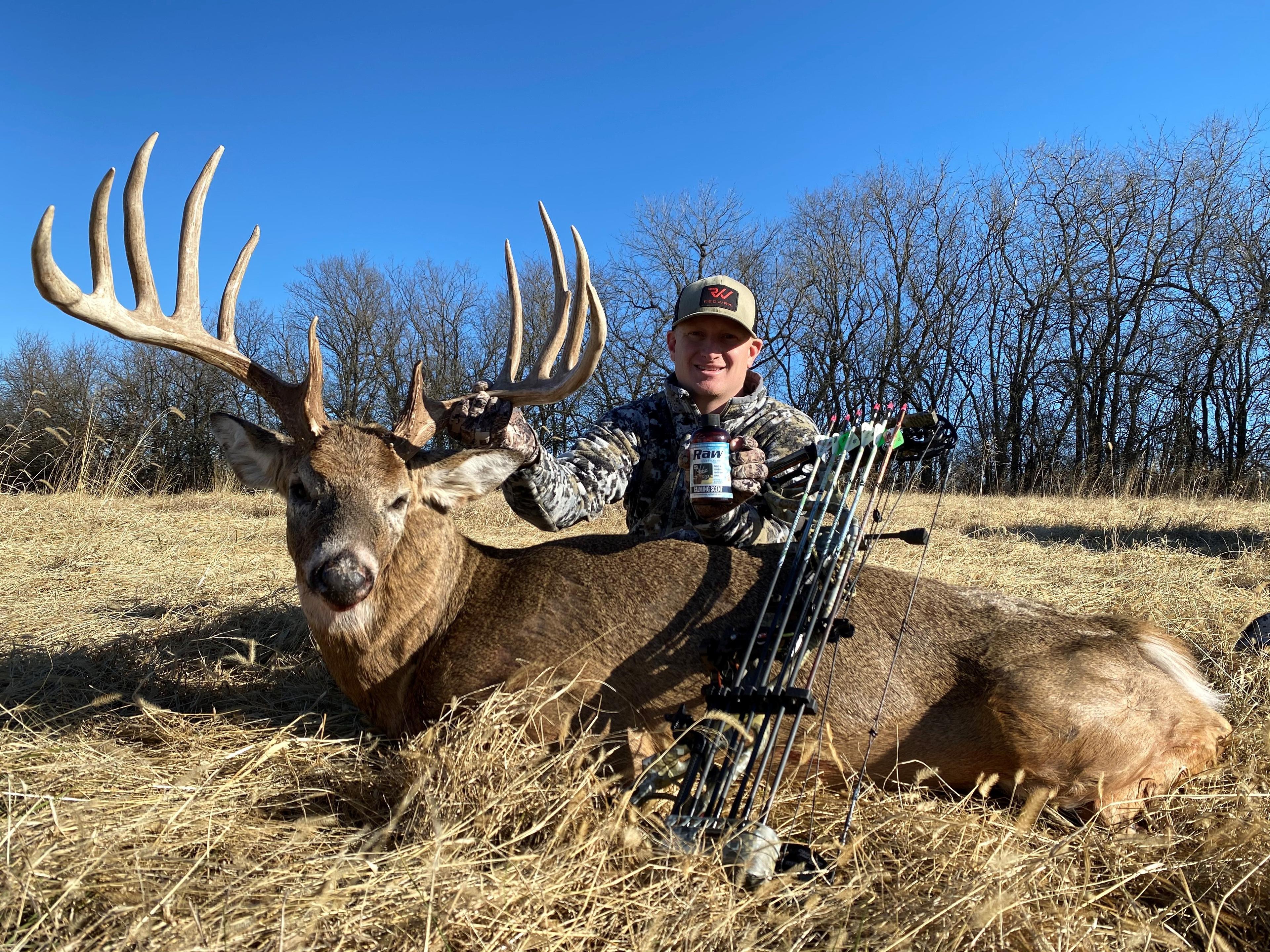 I was hunting late season in Kansas. It was a now or never hunt and I had to get aggressive. This buck was bedding very close to my treestand and I was concerned about swirling winds and my human scent from entry. I used a calming scent on a drag coming in and poured out scrape lure at the base of the tree before I climbed up. Rut action wasn't on this bucks mind in late December, but I feel that the combination of scents put him at ease during marginal winds. RAW scents will be a huge part of my hunting tactics all fall and winter moving forward!
Ryan Lehmkuhl
Team200

I've been after this buck for 3 years. I walked his area this spring for 6 weeks. I was elated to find the coveted palmated side! To say I'm driven is an understatement when it comes to big deer. I first heard of your company after watching Team 200. I bought one of your packages and began putting them out. I really wanted to get him with my Ravin, so on November 13th, I put a whole bottle of the 30 estrus out in my shooting lanes. Twenty minutes after I left the trail cam, he showed up standing in my shooting lane for 15 minutes! On the 15th, our firearms opener, I went out at 2 different times to spray the estrus scent liberally in the spot where he was on the 13th. At 5:17 pm, he came in prancing with his head down and put his nose right where I'd put the scent! I shot him and dropped him in his tracks! I have won the local Big buck contest with him! Everyone is in awe of his antlers! He is my buck of a lifetime! Without a doubt he came to your Estrus 30 scent, which I believe brought him out during shooting hours! An amazing hunt and so glad I bought your scent products!
Jim Knight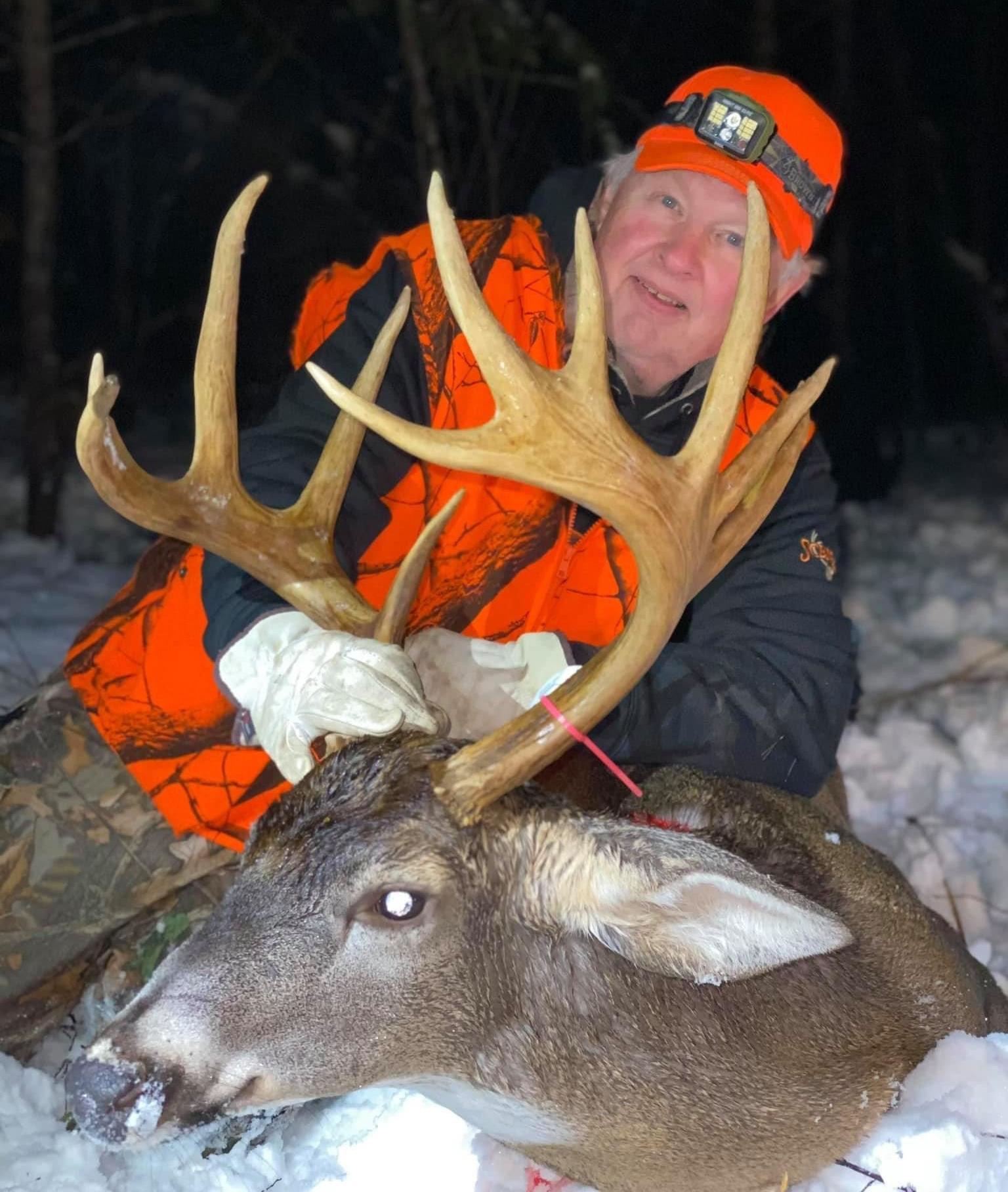 By far the best scent I have personally ever used. I've been using it since 2016 and pics at my mock scrape sites have tripled since then. I also use it as a cover scent and on drag rags going to and from stands, and have had multiple times where bucks or does would follow the trail directly to the tree. It's the purest, freshest and best priced scent on the market.. If you'd like to see it in action with some pics at my scrapes go to @CalculatedKillers Facebook and search the albums for mock scrapes..
Josh Bias
Calculated Killers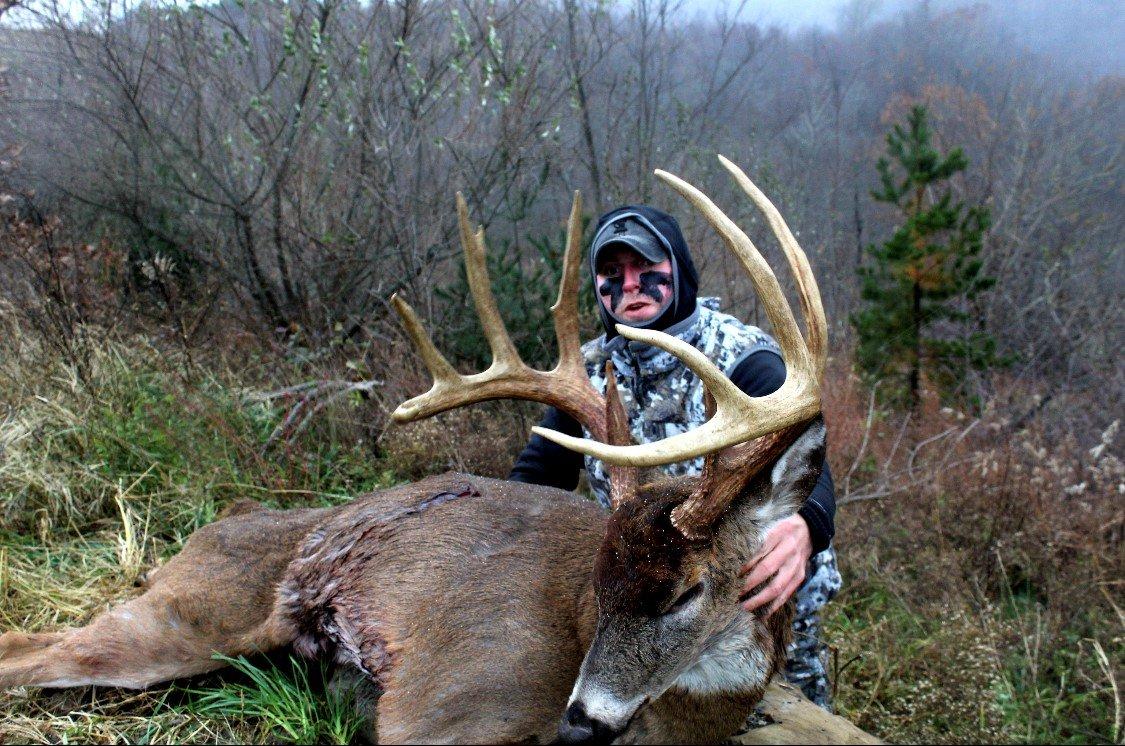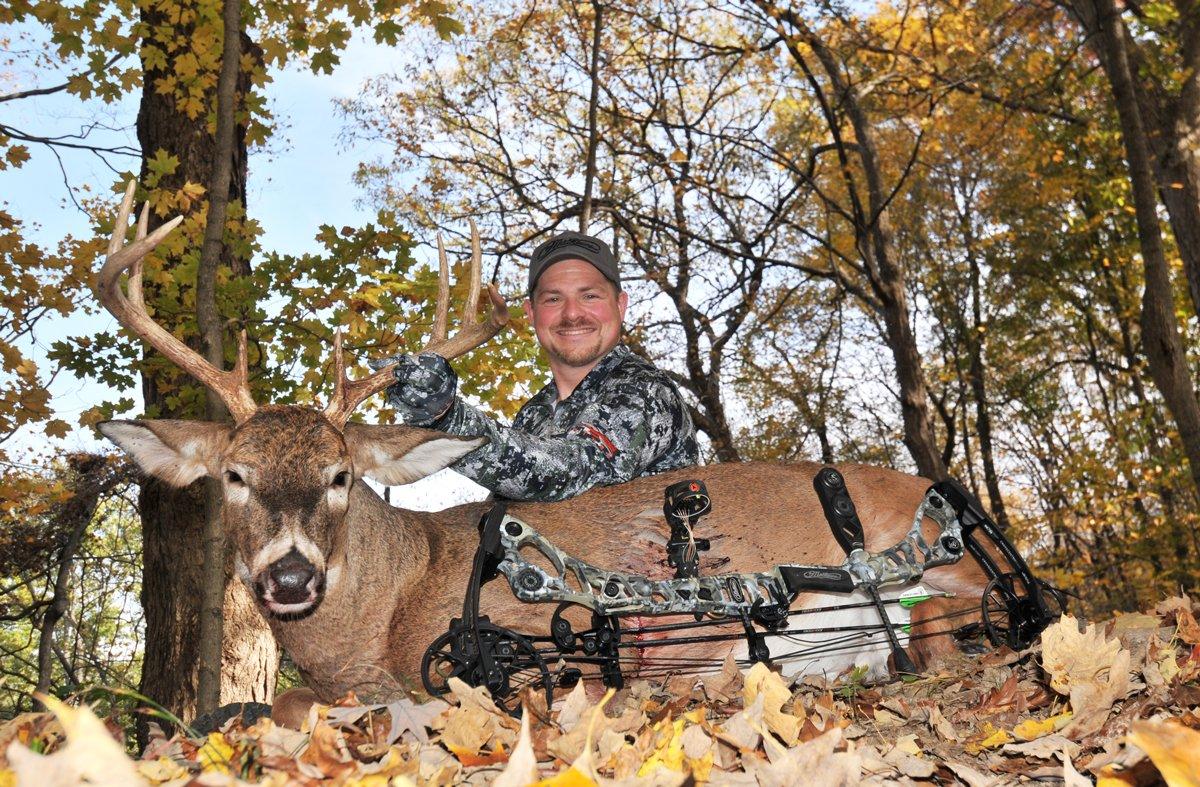 I used your urine on my hunt in Illinois and killed a buck on the very first morning! He came in from behind my stand, and I shot him right in my shooting lane, where I had doused a log with some of your doe in estrus urine. So, needless to say, I believe your product produced excellent results for me.
Chris Berg
Petersen's Bowhunting Magazine
A brief story on my experience with Raw Scents starts with Josh Bias. He's the reason I tried it seeing all the success he has been having with it! I had been after a buck all year with no luck. Late October I made a few mock scrapes with Raw Scents. Immediately I started getting more regular daylight pictures of him checking the scrapes. A week later I set up on him. I hadn't had a picture of him for 2 days straight but still had a good feeling! As I walked to my stand I added some raw scents to one of the mock scrapes 20 yards from my stand. 3 hours later he come directly to that mock scrape presenting me with a perfect shot! Fast forward to the last week of WV deer season in December. I kept all my cameras up on them scrapes and had TONS of bucks checking them scrapes from the day I tagged out in October till the last week of December! 90% of them were bucks I had never seen. 75% of them being mature bucks! I am a firm believer in Raw Frozen Scents!!!
Zac Bolling
I ordered one of your packages in late August because the rut down here in Florida is very early. I had a few extra bottles of your 30+ peak estrus so I gave my buddy a bottle to use. The morning he shot his buck he was sitting in stand and decided to spray it right out of his stand. 5 minutes later the buck we called general lee came in from down wind sniffing away. This was the first deer he has ever shot. Everyone at camp is convinced that your products are what you say they are! Extremely effective! I ordered another package for this weekend. Thank you for making a great product!!
Aaron Peterson
Just harvested my 5th buck of the season, this one was a 6 year old WV buck that I have hunted for 3 years. We have some video content using the Peak Estrus and Scrape Lure on this hunt. So plan on seeing the product used on Season 6 of Whitetail Frenzy next year on the Sportsman Channel. Thanks again for sending me product.
Kenny Davis
Whitetail Frenzy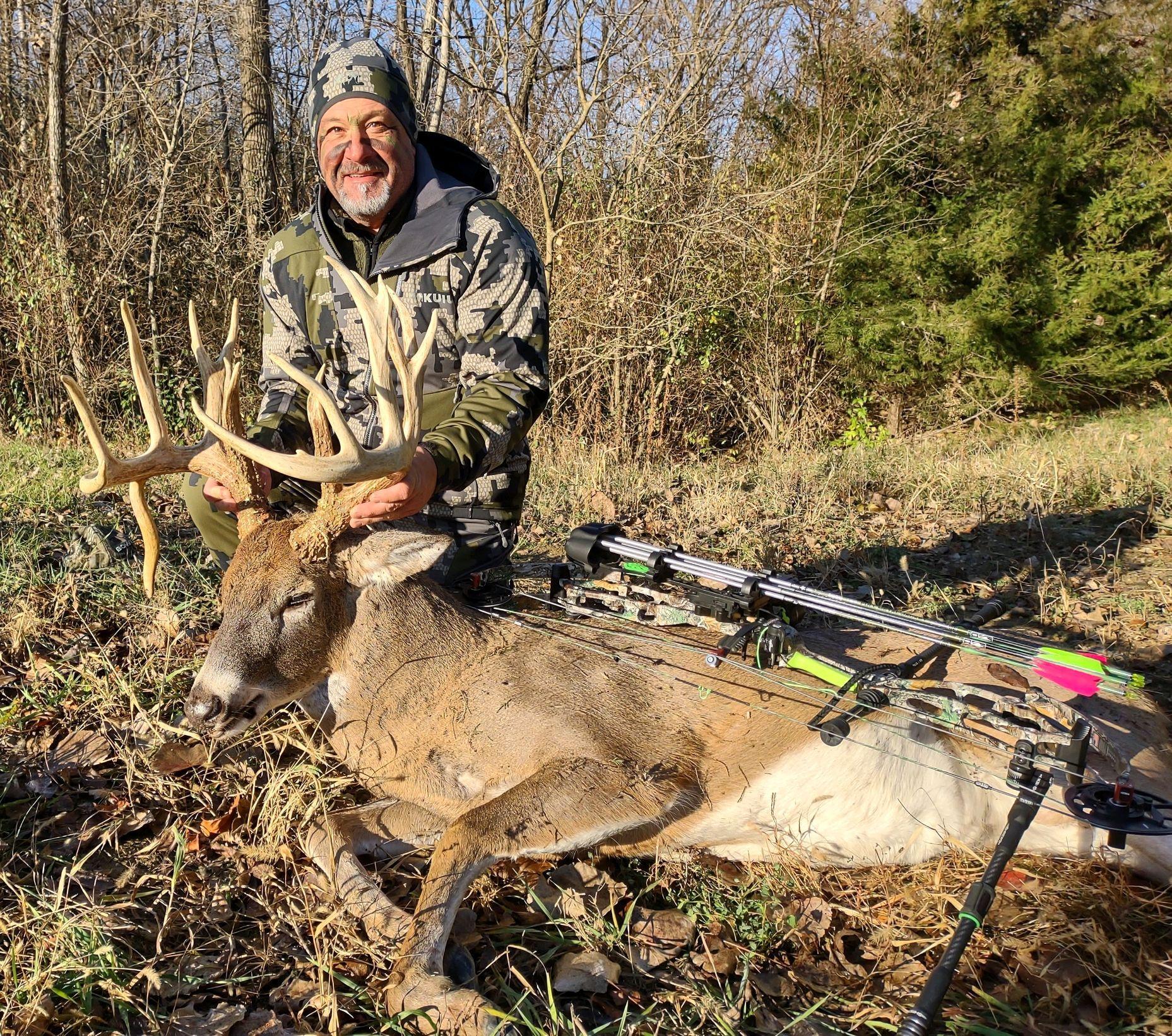 I used the RAW Scents in 2020 for the first time. I had some really good action using a decoy and the estrus. I had a 3-year-old mount my decoy 2 different times, and a really nice 10pt. that came in and wouldn't leave. Then on the last day the deer that I was hunting came in and stopped at 22 yards in my shooting lane when he got down wind of wicks that I had put out that morning. I will be using them again this year in Illinois and Georgia.
Keith Andrews
I shot an 8pt buck with the help of your Peak Estrus wicks! I was hunting on the side of a cornfield, the buck was coming up the middle, which would've been a 70-80 yard shot with my crossbow. When the buck got wind of the wick he made a sharp left towards the wick, I ended up shooting him broadside at 32 yds! The day before I shot this 8pt, I was hunting a different area, I dragged the wick in to where I setup and left the wick about 30 yds away from me on a scrub oak and I sprayed a nearby scrape with the scrape mate too. A beautiful thick 6 pt buck came walking in, nose up and went right to the wick. I should've shot, but was looking for a bigger buck.
Christine Evans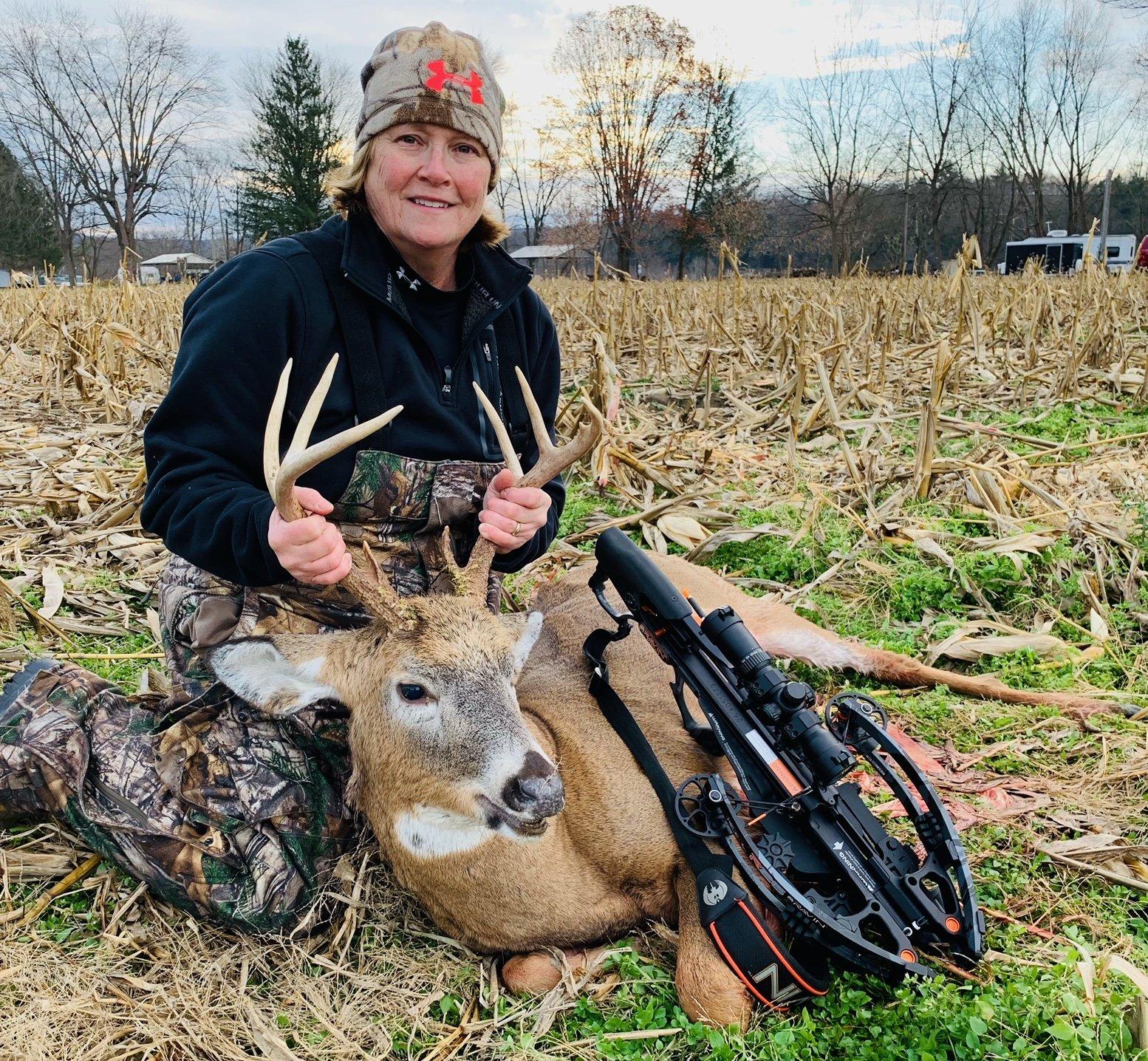 Copyright © Raw Frozen Scents
Prominent Outdoors LLC